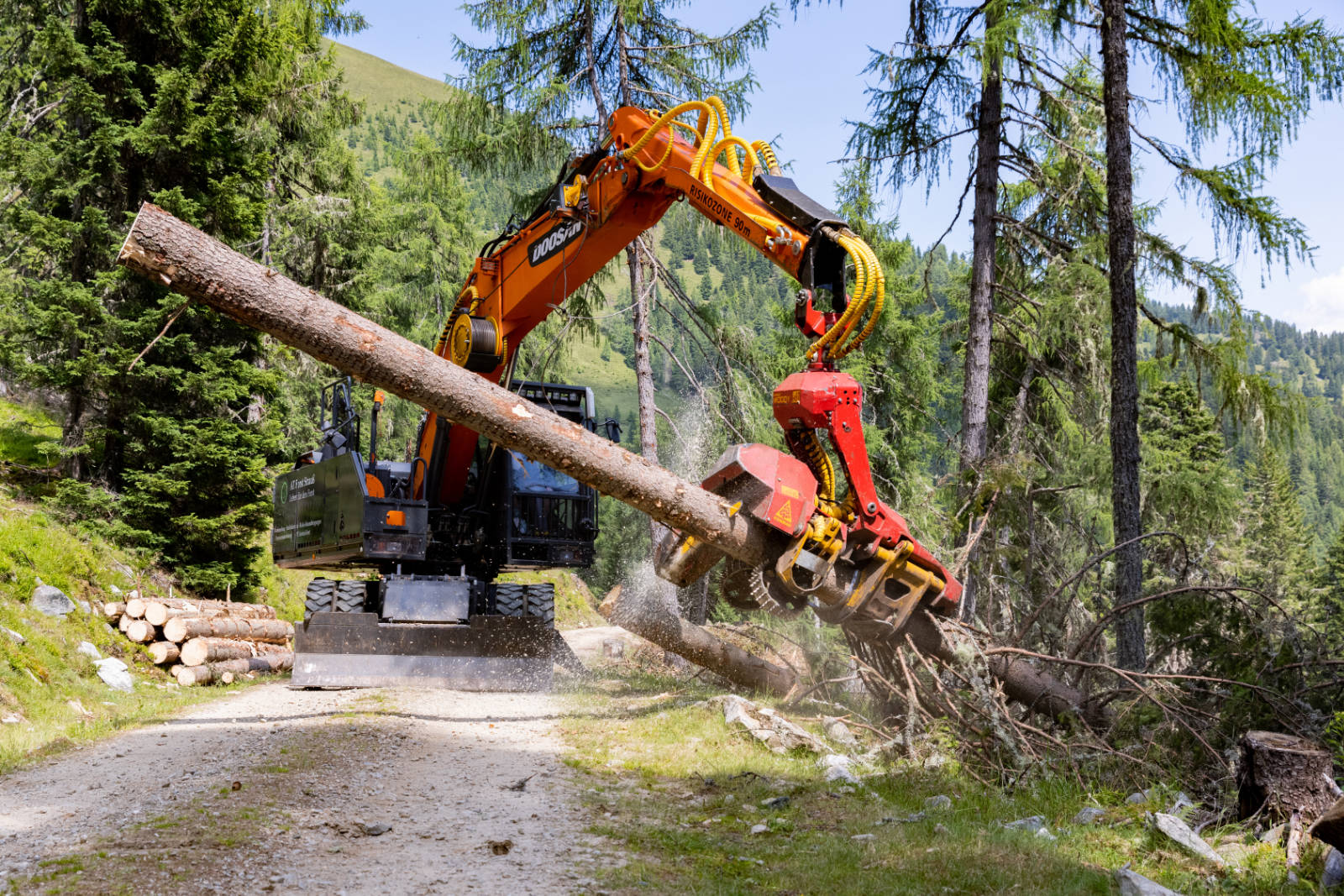 According to the annual logging report of the Federal Ministry of Agriculture, Forestry, Regions and Water Management, 19.36 million cubic meters of unbarked wood (Efm o.R.) were harvested in Austrian forests in 2022. This means an increase of 937,670 Efm o.R. compared to the year 2021. The amount of damaged timber increased by 20.11 percent with 7.27 million harvested solid cubic meters in the comparison period. This was caused by bark beetles with 48 percent, storm events with 32 percent and other calamities with 20 percent.
Highest felling in the forest land of Styria
In a comparison of the provinces, Styria is clearly in first place with a share of 27.8 percent of the total felling or about 5.4 million cubic meters. This results in the following distribution of the product range: 59.46 percent of the felling was for saw logs, the share of wood for energy use (firewood and forest chips) was 21.96 percent, and that of industrial wood was 18.58 percent.
The share of coniferous wood in the total harvest was 89.34 percent and that of hardwood at 10.66 percent. Individual logs were harvested from an area of 86,662 hectares, while area harvesting, including storm areas, took place on about 5,000 hectares.
Percentage of damaged wood on the rise
There was a significant increase in incidental logging in Styria last year. Above all, the effects of the summer storm in August of the previous year are clearly visible. The amount of damaged timber is estimated at 2.05 million cubic meters of raw wood. This is 37.97 percent of the total logging volume. Compared to the same year in 2021, this means an increase of around 0.7 million cubic meters.
Utilization comparison across ownership categories
In the Styrian small forest < 200 hectares, 3.28 million Efm of wood were harvested, in the large forest > 200 hectares 1.74 million Efm, and in the forest areas of the federal forests 0.38 million Efm.
Forestry technology in timber harvesting
While the use of cable equipment dominates in the large forestry operations and in the Federal Forests with 40.9 percent and 43.7 percent, respectively, the small forest category is dominated by hauling via ground traction with 58.2 percent. Harvesters were used for timber harvesting in the large forest with 17.3 percent, in the small forest with 13.4 percent and at the ÖBF with 12.6 percent.
Timber utilization
84.2 percent of the harvested raw wood in Styria goes for sale, 14.92 percent remains for own consumption and 0.88 percent is accounted for by granted wood purchase rights. The majority of the own consumption with 0.74 million Efm served the energy supply, about 62,400 Efm were used for building purposes.
Author: Stefan Zwettler